Ten years ago, if you told me that I would be a travel blogger at this point in my life, I would have called you crazy!! And here I am.
What started out as a little travel blog to keep friends and family up-to-date on our around the world trip has grown into something much bigger. This unexpected journey has been a life changing experience, not only for me, but also for Tim, Tyler, and Kara.
If you have dreams of starting your own travel blog, or you just want to learn more about our story, fix yourself a cup of coffee (or a glass of wine 😊), sit back, and enjoy.
THE IDEA OF EARTH TREKKERS
In early 2014, the idea of Earth Trekkers was "born." Our plans to spend one year traveling around the world were already in the works. Our house was up for sale, an epic route around the world was taking shape, and big dreams of far off places were running through our heads.
It was at this time that we started this travel blog. The idea behind this blog was to keep friends and family up-to-date on our travels, and to document what we were doing. At the time, we had hopes that Earth Trekkers would become something more once our around the world trip ended, but we had no idea if that would actually happen.
Which leads us to picking out a name for our blog.
WHAT'S IN A NAME?
Coming up with a name for a travel blog is big deal. It needs to be catchy and memorable and relevant. The name also has to be different from everything that is already out there. It becomes your brand and part of who you are. It's a decision not to be taken lightly.
Tim and I spent over a week going through potential names for our website. Looking back now, some were just terrible, like Waffles and Wine. Ugh, could you imagine? I really liked Chasing Elephants, but the domain name came with a $2500 price tag so that was a no-go.
We narrowed it down to Earth Trekkers and 4gortw (an acronym for 4 go around the world). 4gortw was short and sweet but it would lead into long explanations for those who don't know what rtw stands for. Plus, once our big trip was over, that name wouldn't really make sense anymore.
So, Earth Trekkers was the big winner.
LIFE AS A NEWBIE TRAVEL BLOGGER
With absolutely no experience on website design, blogging, and writing for an audience, we started Earth Trekkers in February 2014.
Immediately, I came to the realization of how much work this would be. It took days to come up with a design and a flow for the website. I figured it would just take an hour or two to write a blog post. Boy, was I wrong. It takes hours to write a post (and now, sometimes, I spend days, yes, days, writing a single post). How was I going to do this and travel and homeschool Tyler and Kara?
I spent the months before the trip writing about our past travels, just so we had some content on the website. Some of those posts are still here and some have become quite popular, such as hiking to Trolltunga and Kjeragbolten in Norway.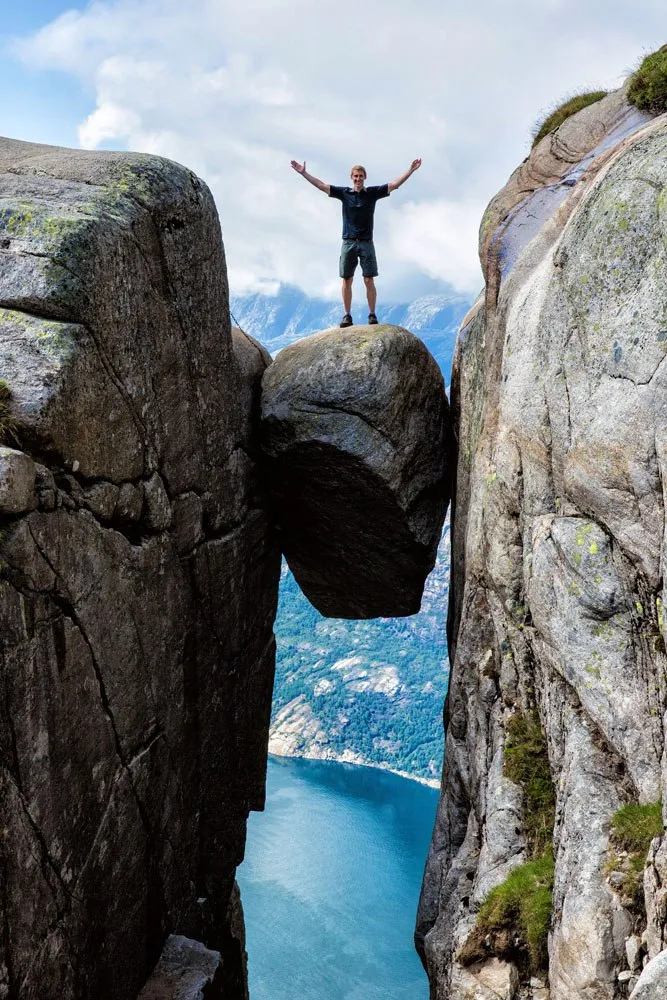 Kjeragbolten
OUR FIRST TASTE OF "FAME"
About a week before we started our around the world trip, we were interviewed by the Baltimore Sun. Tim and I expected to be featured in a short article on page 2 or 3 of the travel section. Well, the day before we started the trip, we had an amazing surprise. We weren't on page 2 and we weren't a tiny article. We were the entire front page of the travel section of the Baltimore Sun. It blew our minds!!
It also drove a ton of traffic to our website. We got 1000 views in just one day! That's nothing now, but leading up to June 28th, we were only getting about 25 – 75 views a day. Along with the website traffic came well wishes from a lot of new followers, not only in Maryland, but from many other places across the US.
Suddenly, Earth Trekkers was enjoying a little bit of fame. We were ecstatic, but also a little nervous.
As we sat in JFK airport, waiting to board the first flight of the trip, I couldn't help but feel a little stressed out. All of sudden, a lot of people were watching us. There was this new pressure not only to share our experiences, and share them well, but also not to fail. Not with so many people watching.
And that was one of our first lessons we learned about travel blogging. We write about everything we do. We advertise where we are going. If something goes wrong when we travel, whether or not it's our fault, you all will know. So I feel like there's this extra pressure on us to travel well, to not miss anything, and to not screw up. As travel bloggers, we are supposed to know what we are doing, right? Well, ha ha, that's not always the case.
BLOGGING DURING THE AROUND THE WORLD TRIP
For 13 months we traveled around the world, visiting 35 countries on 5 continents. It was an amazing experience that I am still thankful for every single day. As Tyler and Kara get older, I feel incredibly fortunate to have been able to share that experience with them during their childhood. Visiting new places was great, but it's really the family bonding and memories we made together that Tim and I are most appreciative for.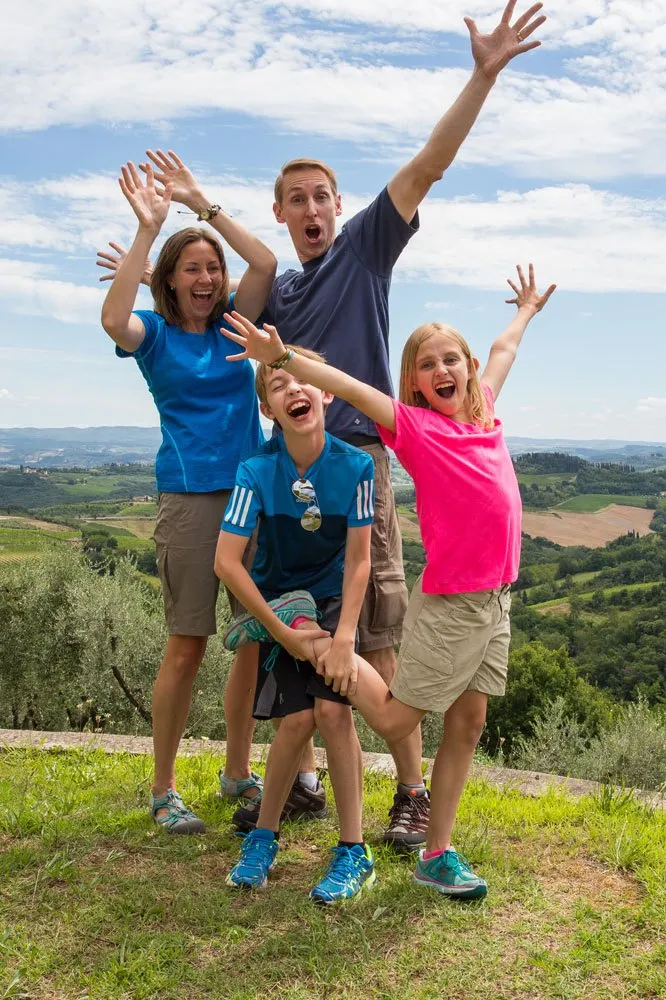 During this time, I embraced blogging. The more we traveled, the better our articles (and my photography) became. We slowly but steadily acquired new followers, and even got features in Terp Alumni magazine, National Geographic, Matador Network, and the Voice of America.
My biggest mistake during this time was ignoring the importance of social media. I just didn't get it. Maybe it was because I was 40, and not one of these 20-something bloggers who Tweets and Snapchats with ease. I posted regularly on Facebook, but that was it. We had a Twitter account we never used, and did zippo on Pinterest or Instagram (they weren't started until 7 months after traveling around the world!).
Knowing what I know now, I would have spent a lot more time on social media. It's incredibly important in building your brand name, getting new followers, and driving traffic to your website.
COMING HOME
Our around the world trip ended in the summer of 2015. We were ready to come home. We had kept up an ambitious, fast paced level of traveling that left us completely burnt out at the end. But it was worth it.
Before the big trip, Tim and I had no intention to move right back to our hometown to our "old lives." We were free now, why not move to Colorado, California, or New Zealand? Because we learned that our lives in Maryland, near our family and friends, was pretty freaking sweet. Sometimes, it takes leaving home to realize how great home is.
So, maybe it's lame, but we moved back to our hometown. And it has been wonderful.
At that point in our lives, it was important that Tyler and Kara have the whole high school experience and everything that comes along with it…friends, sports, tests, dances, parties, girlfriends and boyfriends.
In order to give Tyler and Kara this experience, we put long-term traveling plans are on hold (but let me tell you…we talk about and dream about another big trip around the world someday).